yacht charter Saint-Tropez
On vacation on the Côte d'Azur? You are interested in a yacht charter in the Gulf of Saint Tropez? Ask for our premium service for a yacht charter in Saint Tropez.
Saint Tropez: a jewel of the Côte d'Azur
Saint Tropez is one of the most beautiful holiday destinations in the Côte d'Azur. This seaside resort attracts the international J and set every year. It stands out for having some of the most spectacular beaches in the Mediterranean Sea. During a stroll on the port of Saint Tropez, you will notice several boats and yachts available.
For an exclusive holiday, consider the yacht charter in order to live idyllic moments. From this perspective, renting a riva yacht is synonymous with distinction. We offer you a model of 29.90m long and 6.70 m wide: the Basilisk. It has a twin MTU 16V 2000 M96L motor. It contains 5 cabins with a capacity of 11 beds. Also, this luxury boat has air conditioning and a wifi connection .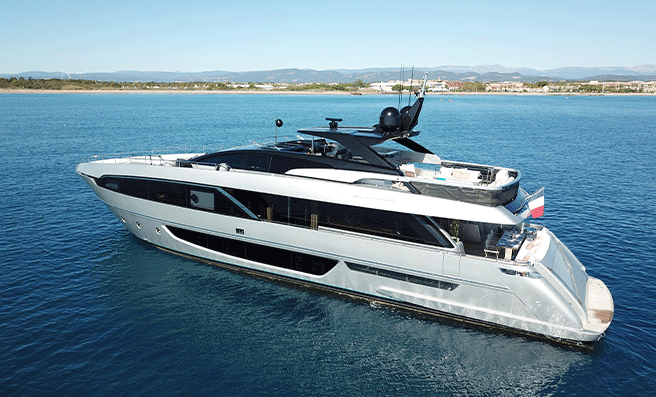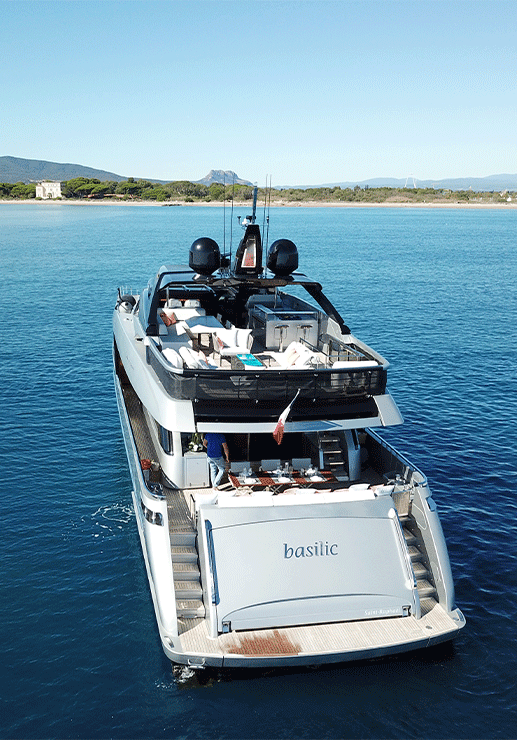 Yacht charter in Saint Tropez: a unique experience
We offer a selection of various services. Comfort and quality will be there to make your getaway in the bay of St Tropez unforgettable. For a celebration with family or friends, organize a birthday or a Bachelor party out of town, in a magic frame while sailing on your yacht. You can have fun and admire the sea of Saint Tropez which stretches as far as the eye can see. We guarantee you a quality event. It is also possible to take advantage of the charter service . If you want to go from one destination to another on the French Riviera, do it aboard the Riva corsaro 100. You can leave from Saint Tropez to reach the beautiful Cannes beaches or even reach Monaco .
To rent the Basilisk, you must count €18,333 for a day in high season. If you want to leave aboard a yacht for a week in Saint Tropez, plan the sum of 110,000 euros . This includes the months of July and August. This rental rate is also applicable for an event. In low season, it is possible to rent a yacht for 15,000 euros per day. The week will come again at 90,000 euros . To benefit from additional services during your getaway at sea, it is possible to contact the crew.
What would a great stay on a yacht be without a sublime collection of aquatic "toys"? To complete your stay, it is possible to ask the help of your crew to use the jet-ski. Accompanied by your guests, you will be able to stand up paddle on the turquoise water of the beaches of Saint Tropez. To experience thrills with friends, you will also find on your boat two Seabobs . Among the devices provided, there are also water skis and a Wakeboarding . Additionally, fins, masks and snorkels can be provided by crew members if you wish to go snorkeling. You can venture out to sea and enjoy the refreshing waters of the Côte d'Azur.
Saint Tropez yacht charter: top-of-the-range services
You wish rent a yacht and sail in Saint Tropez? Choose a getaway aboard a luxury boat Riva Corsaro 100 .
You will be supervised by a crew who will ensure the smooth running of your stay. the captain Jeremy Lelievre demonstrates experience of more than 10 years in the yachting industry. He will be assisted by Alexandre Cintrat. You will undoubtedly be charmed by his joy of living and his good humor. Together, they form an unbeatable duo who will be fully invested in providing you with a memorable experience on board your motorboat in the Gulf of Saint Tropez. You can consult the opinions of customers who have already taken advantage of our rental service in Saint Tropez.
Our team is at your entire disposal to process your request for yacht charter in Saint Tropez. Our qualified collaborators and experts in the field of yachting are committed to answering your questions about the rental of the Basilisk . You will be advised by highly qualified agents. Feel free to visit our yacht charter site and fill out the contact form.
Just put your details and specify your email and your phone number. A sales representative from our team will call you back as soon as possible. For a yacht charter, you can also visit us at the port of Saint Tropez. An agent can provide you available dates and organize the best stay to discover Saint Tropez by cruise aboard a luxury motor boat, from the old port. This experience will certainly be one of your fondest memories. Simply close eyes and admire the beach, our team takes care of the rest. What are you waiting for? To go on an adventure and enjoy unforgettable moments in Saint Tropez, rent a luxury yacht for a day or for a week.
Saint-Tropez is a haven for luxury yachts
The port of Saint-Tropez can accommodate up to 700 boats. However, it is best known for the luxury yachts that are moored in its waters. M/Y Basilic allows you to rent a yacht, board one of the magnificent charter vessels and escape the crowds of the beaches. Discover the smaller but equally charming Pampelone beach from your boat rental in Saint-Tropez.
Saint-Tropez for a walk
Returning to the port of your boat, take a walk in the direction of the marine cemeteries of Saint-Tropez and go to the bay of Canebiers on the beach of Graniers. During your stay, don't forget to pass by the Citadel, admire the beautiful yellow bell tower of the Notre-Dame-de-l'Assomption de Saint-Tropez church which overlooks the bay where all the yachts of the port of Saint Tropez. You can end your visit by strolling around the Place des Lices, to see its market and enjoy games of petanque laden with pastis.
If you are hungry, you can go to La Ponche, an old fishing district. You will find charming little restaurants at the bend of a paved road. Reserve a table in one of Saint-Tropez's famous restaurants for lunch or dinner.
Take advantage of the cool hours by dancing at the Cave du Roy or in the VIP room until the early morning. The luxury yacht can be returned to you for one night at the dock. You can then enjoy the comfort of its Master and VIP cabins, which are equipped to make you live unforgettable moments while you are moored in one of the most beautiful seaside resorts on the Côte d'Azur.
Enjoy a luxurious stay aboard the Saint-Tropez yacht charter
The history of yachting dates back to Saint-Tropez. This fishing port has hosted some of the most famous yachts in the world. You can spend an unforgettable vacation by renting a yacht in Saint-Tropez with a crew. Experts will pamper you. The sea is the best way to see the Côte d'Azur. You will sail along the most picturesque coves of the Côte d'Azur. After reaching Saint-Tropez, your private yacht will drop anchor in the mythical places of the Riviera.
What are the most popular routes to Saint-Tropez?
You can charter a yacht in the Gulf of Saint-Tropez for just one day. This will give you plenty of time to see Pampelonne Bay, Cap Taillat and other attractions. You can also go to the west, on the magnificent islands of Port-Cros or Porquerolles, in the middle of a protected natural environment. A week's yacht charter from Saint-Tropez is an unforgettable experience. You can sail in the Mediterranean, discover Cannes , Monaco, Saint-Tropez and extend your pleasure to Corsica.
Rent your yacht to visit the Gulf of Saint-Tropez
Saint-Tropez, a famous seaside resort in the Provence region, is where some of the most beautiful yachts drop anchor. The fastest way to reach the Tropezian peninsula from the coast is by boat, making it a favorite spot for Jet Set vacationers. Our charter yacht cruises and speedboat transfers take you to the most beautiful places in Provence, less than an hour from Cannes and two hours from Monaco and Nice airport.
A few steps away, the mythical Tropezian bay of Canoubiers by Brigitte Barrot, and the private beaches of Pampelone such as Club 55.
Chartering a yacht in Saint-Tropez is a great idea
One of the things we dream about the most is sailing on a yacht in Saint-Tropez. Yachts are large, spacious boats that offer all the comforts needed to have a great time at sea. You'll have everything you need to enjoy a relaxing stay, including berths and outdoor sun pads. If you are looking to enjoy maximum comfort while sailing, we recommend that you rent a yacht. You can invite your friends and family members to join you on the yacht due to its spacious interior.
How to rent a yacht in Saint-Tropez?
You can rent a yacht in Saint-Tropez by contacting our team directly.
You should consider not only the availability of the yacht but also its size, as well as its capacity.